For the main power distribution in my house, I also build a powersensor. The basic idea is the same as for this sensor. But the electric meter is already build into the distribution cabinet, so this power meter uses the so-called S0 bus of the power meter inside the cabinet.
The meter can count W/h summed up for all three power phases and the peak-to-peak voltage of one of the main powerlines entering my house.
The data is transmitted also directly to the data collecting web-site.The power and voltage values are sent every minute to the web-site. The administrative sensor are transmitted only every 10 minutes to the web.
Senors
The following sensors are provided by this sensor node: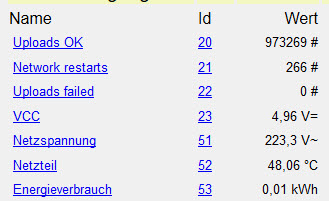 | | |
| --- | --- |
| Uploads OK | Number of successfull data uploads |
| Network restarts | Number of WLAN reconnects etc. |
| Uploads failed | Number of upload errors since the last WLAN reconnect |
| VCC | The internal power supply voltage |
| Netzspannung | The main power peak-to-peak AC voltage |
| Netzteil | The temperature of the build in power supply |
| Energieverbrauch | The energie consumption of our house during the last measurement intervall, means 1 minute |
The data can be displayed on the web site in various ways.
Hardware
Simple ABS cabinet. Powersupply is a compact MEANWELL AC/DC converter. The mains voltage is measured via a small transformer and some glue ciruits. The main processor is an arduino clone with onboard ESP-8266 WiFi.
Schematic
The yellow squares are referenced in the measurement section!
Bill of material
| | | | | |
| --- | --- | --- | --- | --- |
| Part | Value | Device | Package | Description |
| C1 | 330nF | C2.5/6 | C2.5-6 | CAPACITOR |
| C2 | 10uF | CE01A | CE01A | Electrolytic capacitor |
| D1 | Power | DL03N | DL03N | LED |
| D2 | WLAN | DL03N | DL03N | LED |
| D4 | Pulse | DL03N | DL03N | LED |
| D5 | ERROR | DL03N | DL03N | LED |
| D6 | LIFE | DL03N | DL03N | LED |
| F1 | T0,1A | SH22,5A | SH22,5A | FUSE HOLDER grid 22,5mm |
| IC1 | DS1820 | DS1820 | TO-92 | 1-Wire Digital Thermometer |
| JP1 | 230VAC | M023.5MM | SCREWTERMINAL | Standard 2-pin 0.1" header. |
| JP2 | Zähler | M023.5MM | SCREWTERMINAL | Standard 2-pin 0.1" header. |
| MEANWELL | IRM-05-5 | IRM_05/10 | IRM_05/10 | 5 watt |
| NANOESP | | ARDUINO_NANO2 | nanoESP | Pretzl board |
| R1 | 1K0 | R-EU_0207/10 | 0207/10 | |
| R2 | 1K0 | R-EU_0207/10 | 0207/10 | |
| R3 | 10k0 | R-EU_0207/10 | 0207/10 | |
| R4 | 10K0 | R-EU_0207/10 | 0207/10 | |
| R5 | 4K7 | R-EU_0207/10 | 0207/10 | |
| R6 | 390R | R-EU_0207/10 | 0207/10 | |
| R7 | 390R | R-EU_0207/10 | 0207/10 | |
| R8 | 3k9 | R-EU_0207/10 | 0207/10 | |
| R9 | 390R | R-EU_0207/10 | 0207/10 | |
| R10 | 390R | R-EU_0207/10 | 0207/10 | |
| R11 | 390R | R-EU_0207/10 | 0207/10 | |
| R12 | 2k2 | R-EU_0207/10 | 0207/10 | |
| 1 | Gerth 0,5VA 9V | EE20-1 | EE20-1 | TRANSFORMER |
Measurement
AC Input
Signal at points 1-2:
Signal at points 0-4:
Mains input voltage 225,7VAC-p2p
Power consumption: max=0,0211A avg=0,0127A -> 2,8W
Supply voltage (0-5): 5.01VDC
Reference voltage (0-1): 2.50VDC